10 Aug 2016
Transparent Squash Court by Jupiter Sports
Jupiter Sports manufactures and exports superior sports hardwood and sports flooring systems.
Jupiter Sports installs world class transparent squash court back walls that matches the strict specifications of the Squash court for both two & four panels back wall systems. Additionally, the Toughened Safety Glass matches the performance requirements of all national building regulations, based on test specifications of local authorities. These Glass Squash court back walls allow viewers to have a clear view of the game safe & even provide a more open club design for players.
The squash courts offered are of premium quality & are long lasting. These surfaces are used nationwide by clients for its outstanding qualities.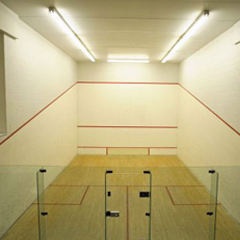 The cement based hard plaster system by Jupiter Sports confirms the need of the WSF (World Squash Federation) consisting of Base Coat of a total thickness of app. It is 15mm and coated with the imported washable paint system.
Because of the particularly hard nature of the plaster, a slight uneven color distribution & micro porous surface checks can be seen once the plaster is dry. But this does not affect the strength or the integrity of the plaster & cannot be considered as a fault.