09 Aug 2016
Know about Sports Seating TipUp Smart
STECHERT Stahlrohrmoebel GmbH's is the manufacturer of seating called TipUp Smart.
TipUp Smart is a stadium seat which has a GS sign and fulfills the FIFA Standards. It has padded seat which is mount in front, on the step or on beam.
It has exclusive design with armrests available. The seat number is at the eye level and plastic parts are available in RAL color according to the customer choice.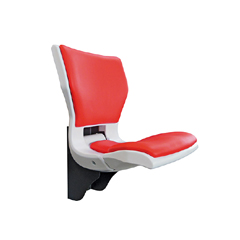 It has top quality blow moulded plastic parts and is of vandal-proof construction. It even has a patented pending mechanism with the perfect ergonomics.
It is UV resistant with 5 years of warranty and fire resistant according to DIN 4102 B1.
It has reasonable price performance ratio and is of contemporary filigree design with great stability at best conditions. TipUp Smart is included in STECHERT Stahlrohrmoebel GmbH's product "Copacabana" family.