24 Aug 2016
Synthetic Grass All-Weather Cricket Pitch
Maverick Turf Corporation LLP's is the manufacturer of Maverick Turf Cricket Pitch. It is the exclusive manufacturer of Artificial Grass and Artificial Grass sports turf in India.
Maverick Turf Cricket Pitch is made up from Synthetic Grass. It is a tough pitch which needs less maintenance. It is set-up on a hard concrete surface and is available as Half Pitch and Full Pitch size
It is an all-weather pitch, i.e. it is apt for any kind of season (especially rain) and provides bounces, swings and spin for bowlers. It can help in the progress of the skills and techniques of batsmen.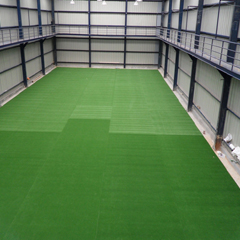 It is reasonable in cost and can be used for academics, clubs, educational institutions and private use.
The products of the Maverick Turf Corporation are manufactured by employing the superb raw materials which are chosen from foremost suppliers across the world. They're manufactured under strict guidelines and quality control.
The products of Maverick Turf are licensed and manufactured under the brand name Maverick Turf™.