05 Dec 2016
Why rubber flooring is best for commercial athletic centres use?
Rubber floors offer a wide range of advantages that make them a perfect choice to both commercial and residential property owners. Besides environmentally friendly, rubber flooring comes in a variety of colors and patterns to select from.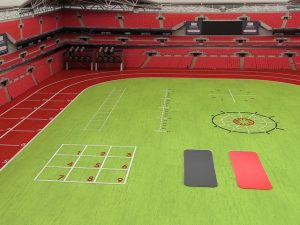 All you need to know about rubber flooring!
Rubber Flooring is majorly used in a fitness center and these surfaces are typically made from recycled tires. However, recycled rubber flooring costs less when compared to virgin rubber flooring products. But both the options provide the same physical features. It is more durable and is also capable to withstand the huge weights, but it may not the best choice for the entire facility.
It is a preferred sort of floor that commercial athletic centers use as it is eco-friendly and hassle-free commercial flooring. It also offers the guarantee in providing the most beneficial durability you ought to want with your commercial spaces. This kind of flooring is most suitable for sports centers including basketball courts, ice rinks, golf clubs and commercial gyms.
Why rubber flooring is best for commercial athletic centres use?
Many advantages of using rubber surfaces in commercial flooring have produced a big impact on the architects and property developers. However, commercial centres that commonly use rubber flooring include health and fitness centres in physical therapy floors, commercial gyms along with other trade show floors.
Integrating rubber flooring in your commercial athletic centres helps you in preventing more cases of slipping and reducing noise levels. The flexibility you will experience in using these flooring will be soaring. Using this flooring is also hassle-free and can be used for several applications including weight rooms, home gyms, and aerobic centers.
Rubber flooring – Preferred commercial fitness flooring choice!
Rubber flooring is a preferred commercial fitness flooring choice for every sports owner. We can find it in golf courses as well as other pro shops. When you decide to use rubber flooring rolls for your commercial flooring, you would be capable to know that there are several custom flooring options available for you. You can discover several custom flooring options when you use rubber flooring rolls for your commercial flooring.
Guide on How to buy rubber floor:
Using rubberised commercial fitness flooring is usually a cost-efficient solution that improves your athlete's performance and increases their safety with less risk of injury.
To buy the right rubber floor, you have to consider various factors. You have to first decide on a type of factor that you want to create. If you want to create repeating patterns, you should go for rubber tiles instead of rubber sheets. You must consider the thickness of the floor. You should remember that the thicker the floor, the softer it is underfoot.
On the other hand, thicker floor also provides you with more insulation against heat and noise. You should also note that the thicker the rubber, the more expensive it is.