06 Sep 2016
Quantum Seating | Sports Venue Seating
Camatic Pty. Ltd's. is the supplier of seats for various kinds of venues. Excellent design and technology make this company successful. One of their seating is the Quantum seating.
The Quantum seating has been designed after consultation from ergonomists. It maximizes the capacity and outstandingly comfortable. It guarantees long-term durability and requires less maintenance.
The beam mount system of this seating is patent and the seats are placed evenly in every row. It can be easily added, removed and adjusted according to the events. The range of Quantum seating's is as follows:
Quantum 850
Quantum IM
Quantum Uno
Quantum 770/850 Upholstered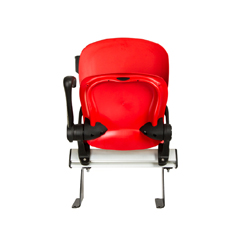 Quantum 850:
Quantum 850 provides maximum comfort, easy to maintain. The row end panels can be personalized with a team or venue sign/logo stamped on it.
Quantum IM:
The meaning of Quantum IM is Quantum Interactive Media. It has been designed for holding future hardware and software upgrades which can easily be retrofitted. It has a revolutionary armrest which combines innovative technology with cutting edge ergonomic design.