29 Jul 2016
Know what is Acrylic Systems in Sports Area?
Aar Ess Floor Zone Pvt.Ltd.'s in their Go Sportz offers acrylic systems. It is an ISO 9001:2000 certified company which has flawless product quality and it has solutions to match every need in the sections of commercial, residential and hospitality application.
The acrylic systems are used in the sports which can both indoors and outdoors.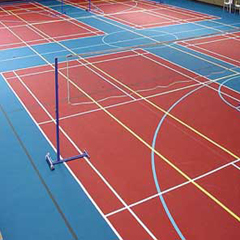 These systems are for the hard courts as well as original cushion courts based on the applications and budget. They're durable, seamless, require low maintenance and are available in many colors.
It can be used for sports such as basketball, handball, karate, boxing, volleyball, etc. These systems can be coated on concrete with adhesives.
Because of the coating there is a reduction of heat on the surface. There are product options available namely Hard Court, Proflex Soft court and Insitu Cushion Court.