30 Apr 2018
BIM: A Boon for Stadium Construction
Building information modeling (BIM) technology is enabling stadium designers to move away from 2D drawings and utilize 3D models instead. This 3D-model-based approach has the following benefits when applied to stadium construction.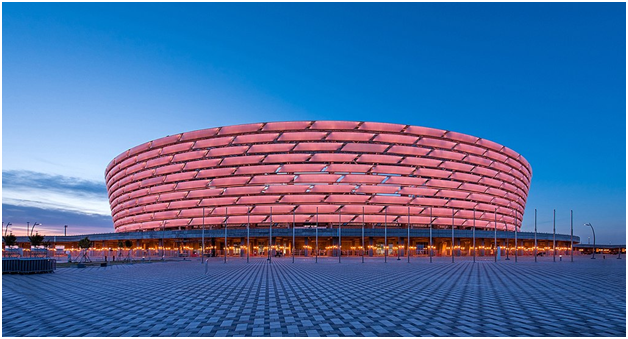 Reality Capture: Captured reality data from aerial imagery, digital elevation, and laser scanning of existing infrastructure is fed into BIM to the benefit of stadium designers.
Shared Data: A 3D model is shareable among those responsible for the different components of stadium construction, eliminating the need for reworking and duplication of drawings. The model can also contain much more information than a 2D drawing set and can be updated much more quickly.
Access to Project History: BIM provides instant access to project history safely stored in the cloud. The model's data is not subject to disastrous disappearances or corruption of files, and project participants can access it from anywhere, at any time, on any device.
Improved Collaboration: Different disciplines can easily share information and collaborate with each other. Review and markup steps are easily accomplished, ensuring that everyone is ready to execute the design when it's finalized and moving into the construction phase.
Superior Visualization: BIM includes simulation tools allowing designers to visualize many aspects of the design. Examples include the amount of sunlight falling on specific parts of a stadium during different seasons of the year and the calculation of stadium energy requirements and performance.
Better Conflict Resolution: BIM easily detects any conflicting design elements such as electrical conduit or ductwork running into a beam. Such problems can be discovered and taken care of early in the design process. BIM also ensures that components manufactured off-site will fit perfectly.
Coordinated Sequencing: BIM involves a main model and sub-models for each construction phase, allowing for coordinated synchronizing of steps, materials, and workers. Predictable paths are set up to achieve expected outcomes.
Examples of Stadiums Constructed with BIM
The following are some notable examples of stadium projects that utilized BIM to improve speed, efficiency, profitability, and quality of construction.
Olympic stadium, Azerbaijan – This 68,000-seat stadium with a  retractable roof was designed and built in just eighteen months. BIM-enabled project teams in different parts of the world to collaborate – architect (South Korea), structural designer (New York), 3D modeling and BIM coordination (Turkey and Greece).
Washington Nationals' Baseball Stadium – Completed on an aggressive schedule despite funding delays and a complex design that arranged concourses and seating decks into different "neighborhoods."
Yankee Stadium – BIM was used to accurately model the geometry and aesthetics of a steel frieze around the canopy designed to replicate the old Yankee Stadium's original copper frieze.
Meadowlands Stadium, NJ – BIM enabled the steel detailer and fabricator to commence connection detailing early on in the design phase.
Conclusion
Before the advent of BIM, designing and constructing a stadium involved thousands of unconnected documents. BIM pulls every aspect of a stadium project into a single view, enabling project teams to collaborate and communicate much more effectively and efficiently to build great stadiums.