01 Aug 2016
Arena Group Presents Arena Structure
Arena Group's range varies from seating to structures to well dressed tables.
Arena Structures  which are a part of Arena Group offers temporary event structures and semi-permanent venues to various sectors. They're designed in a way for safety and flexibility to for distinct event environments for conference and exhibition venues, to corporate product launches, sports, music, broadcast, ceremonial and political events and high profile private events.
They're designed keeping in mind the well-maintained, modern equipments. So, that user can organize grand events. There are a many ranges of these structures and some of them are: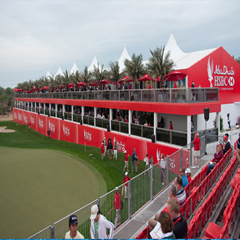 1.   TFS:
The TFS (Tensioned Fabric Structure) presents the most spectacular venue for any event. It is available in 30m, 40m and 50m spans, with a peak height of up to 17 metres.
    2.  Custom Designed:
The Arena structure even designs and builds according to the customer specifications, requirements.
    3.  Feature Structure:
The structures can also be set up in entrances, reception areas, retail units and parties. They're designed keeping in mind the British, Americans and European for stability and safety. Available in 3m x 3m 4m x 4m 5m x 5m 6m x 6m.
Other ranges are Aluhall, Multi-desk structures, Features, Ice Links, etc.